Gender equality within TRR83
TRR 83 prioritizes gender equality as being critically important for all scientists to have equal chances to develop their career in academia as principal investigators. Gender equality is also a prerequisite to achieve and maintain scientific excellence.
TRR 83 actively invited qualified women to participate in the TRR 83 as principal investigators, resulting in an increasing number of female PIs over the TRR's three funding periods.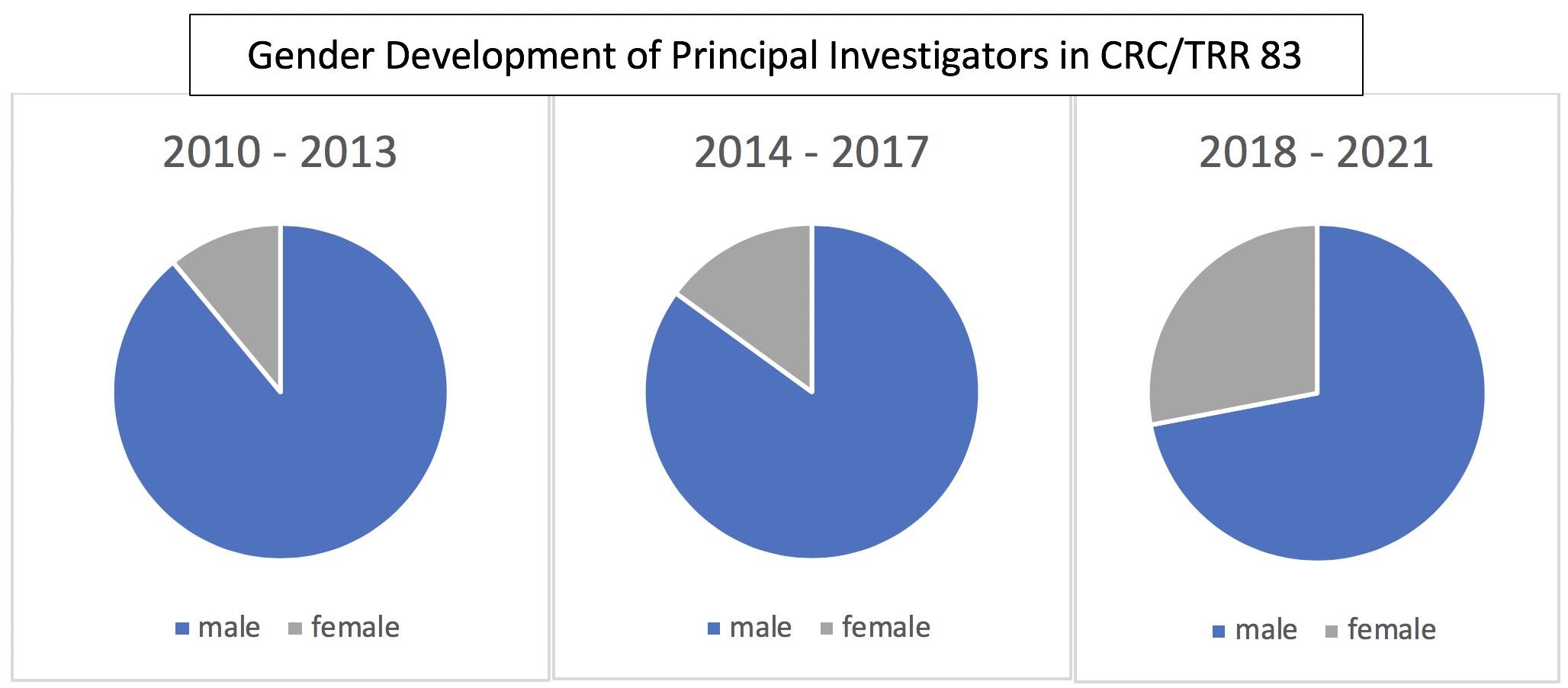 At the PhD or postdoc level twenty-six female scientists are participating in TRR 83, equaling a ratio of 47%.
To further close the gender gap within TRR 83 and in the field of biosciences, TRR 83 supports career development of female scientists and the compatibility of family and career.
Career Development
TRR 83 organizes in-house educational seminars to promote the careers of young scientists with a special emphasis on the support of female scientists. The topics of the seminars range from legal aspects for young parent scientists to gender-specific differences in communication and leadership as well as negotiation skills for female scientists.
TRR 83 funds and organizes personal career coaching for young female scientists. TRR 83 created opportunities to discuss their professional situation and future plans with an expert on a confidential basis.
TRR 83 encourages young scientists to enroll in outside seminars, such as hard and soft skill trainings, and funds the participation of young female scientists in these trainings.
TRR 83 organizes networking events and actively engages in partnerships with other CRCs and TRRs. This has resulted in collaborative workshops, seminars and the so called "Gender Club meeting".
Compatibility of family and career
TRR 83 helps young scientists during pregnancy and parental leave. This includes funding of home office equipment and of substitutional staff during pregnancy and parental leave as well as a variety of childcare measures. TRR 83 funds childcare measures outside the usual opening hours of local childcare facilities as well as during TRR events and has also given financial support to day-care centers in Dresden and Heidelberg, thereby enabling to employ additional staff.
TRR 83 financially supported the establishment of the "Concierge Service" at the University of Heidelberg. This service helps to simplify the daily routine of scientists by finding and coordinating reliable staff for all kinds of domestic obligations (childcare during school vacations, daycare, garden maintenance, laundry, home sitting, snow clearing….).
TRR 83 promotes a family-friendly working environment in research. In this regard, TRR 83 organizes networking events for parent scientists and funded a child-friendly office space in Bonn.
Contact
Geschäftsstelle TRR 83
Im Neuenheimer Feld 328, R 203
69120 Heidelberg
Tel.: 06221 - 54 4492
Responsible:
Editor
Latest Revision: 2019-07-16